John Thompson Jr. was a man ahead of his time
The legendary Georgetown head coach will be remembered for Hoya Paranoia, but his legacy of fighting against racial injustice is who he was and what he stood for.
It was the day before the 1982 national title game.
Georgetown head coach John Thompson Jr. was at the podium. His Hoyas were scheduled to play Dean Smith's North Carolina, a team led by a freshman guard named Michael Jordan. Thompson was asked that day about being the first Black head coach to take a team to the Final Four.
It was the question he was waiting for.
"I resent the hell out of that question," Thompson answered. "It implies that I am the first black man to be accomplished enough and intelligent enough to do this. It is an insult to my race.
"There have been plenty of others who could have gotten here if they had been given the opportunity they deserved."
Big John died over the weekend. The details, as of Monday morning, were still unclear.
He was 78 years old.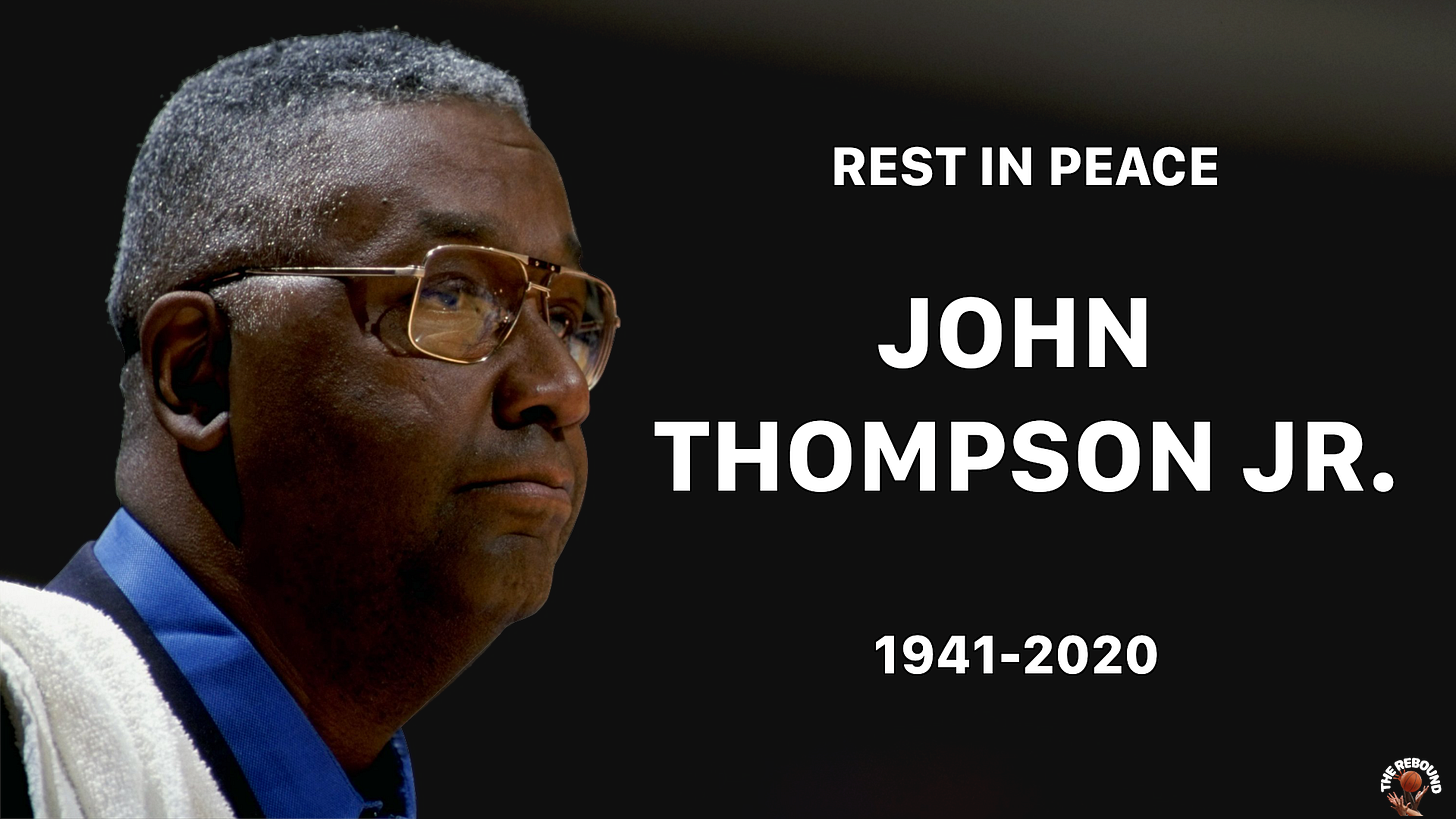 You're going to hear a lot about Big John over the course of the next week. We're talking about the man that built Georgetown basketball into a powerhouse, that helped build the Big East. We're talking about the man that coached Patrick Ewing, and Alonzo Mourning, and Dikembe Mutumbo, and Allen Iverson. We're talking about the man that had the white school in the whitest part of 'Chocolate City' wearing Kente cloth. We're talking about the Black coach that recruited Black players and had convinced the nation at-large that Georgetown University was a Black school.
There are going to be stories told about the time that he announced that Syracuse's old gym, Manley Fieldhouse, is closed, or about the time he wore a sweater to mock Lou Carnesecca, or the time that Iverson said that Big John saved his life.
But I think that the elder Thompson's legacy, the one that matters, the one that I will always remember him for, is summarized in that sentence you see above: "There have been plenty of others who could have gotten here if they had been given the opportunity they deserved."
His fight for racial equality was never-ending.
He was the first Black head coach to win a national title. Five years after cutting down the nets in 1984, he took his fight to the streets. Literally. It was the late 80's, and the drug wars in D.C. were escalating as the city's crack epidemic exploded. During a meeting in Southeast, one of the roughest parts of the city, Big John spoke.
What options is the city giving the kids in these neighborhoods? Where can they go? What can they do beyond standing on a corner? Where are the boys' clubs? How are you helping these kids avoid that life?
It went beyond just words.
As the story goes, D.C. drug kingpin Rayful Edmond III was a massive Georgetown fan, to the point that he buried his soldiers in Hoya jerseys. When Mourning arrived in D.C., Edmond — who had grown up with John Turner, another Hoya, in Glenarden, Md. — befriended him. They were close enough that Mourning was called to testify at Edmond's trial in 1989.
That relationship was put to an end by Thompson.
He put word on the street that he wanted to speak to Edmond. He invited him into his office prior to the start of the 1988-89 season.
"I didn't get into his background or conduct an interrogation; that's for the police," Thompson told the Washington Post at the time. "But the legal process is a long one, while the problem is an immediate one. I tried to make sure he knew the goals and objectives of my kids, and [tried to] make it very clear to him that I didn't want anything going on with my kids."
This brought with it criticism.
Why is a legendary head coach meeting with a known drug trafficker?
"We cannot close ourselves off from the whole of society," Thompson told the paper. "Anybody who experienced the Len Bias situation knows we cannot isolate [ourselves], seal ourselves off from people. We'd better start confronting these problems. We'd better understand we're incorporated into these problems. This isn't them or they. The people involved with the drugs and being killed are our children. It's not like somebody crawled out of some hole who is so different from us."
That same season, Thompson boycotted a league game against Boston College to protest a decision made by the NCAA to deny scholarships to players that failed to qualify academically.
After the players were introduced and the game was set to begin, Big John tossed his towel to an assistant coach, walked across the court, through the cameramen and into a car that was waiting in the bowels of the Capital Centre. After getting dropped at his own car, Thompson drove around D.C., listening to the game on the radio. When asked about the boycott later, Thompson recalled seeing a group of young men standing outside a store on that Saturday night.
"If these kids today don't get that [scholarship] opportunity, who are they going to look to?" he said. "Those people lingering [outside the store]? I had to reassure myself I was doing the right thing.
"I'm sure now I'm right."
Five years later, Big John took another stand. In January of 1994, Thompson and the Black Coaches Alliance (BCA) planned a boycott of games on Martin Luther King Jr.'s birthday to protest the NCAA's decision not to restore a 14th scholarship for men's basketball, which the BCA stated would disproportionately impact minority communities. Players and coaches were going to participate.
That protest never happened, because the NCAA knew that the BCA was serious. They knew the power that was held by an association that featured the likes of Thompson, John Chaney, George Raveling and Nolan Richardson. The NCAA agreed to Justice Department mediation.
And in the end, it was Thompson's role in the BCA that should, and will, be remembered.
Thompson was hired by Georgetown in 1972. In 1978, there were seven Black Division I head coaches. By 1991, that number was 34. By 2000, 25 percent of high-major head coaches were Black. By 2005, that number was 32.3 percent.
And you better believe the BCA played a major role in that.
"I was on the board," Richard Lapchick, the director of The Institute for Diversity and Ethics in Sport, told me. "Whenever there was an opening we would send a list of qualified candidates to the president and the athletic director with coaches of color that they should take a look at, including a bio and his experience. I don't think anyone is doing that anymore."
The BCA was a product of the outsized personalities that led the way. Thompson, Richardson, Raveling, Chaney. These were some of the biggest names in coaching, and they were willing to fight for what they believed was right. They were vociferous and unrelenting.
Today, the biggest names in college coaching are all white. Who is the Black counterpart to Coach K, or Roy Williams, or Tom Izzo, or Bill Self, or Jim Boeheim?
"Think about the dynamics of those personalities," Tulsa head coach Frank Haith told me. Haith is one of the coaches that launched Black Coaches United, a newly formed group that will attempt to exert the kind of influence that the BCA once held. The first objective is to convince campuses to open their arenas as polling stations in this November's election. John Thompson III is a founding member.
"When I was young, we had those guys," Haith said. "Those guys carry so much weight in their voices, and [Black coaches] don't have that now."
I used to live in D.C. I've covered hundreds of Georgetown games over the years. I've interviewed Big John. The memory that will always stand out to me came from a game in December of 2014. It was after Eric Garner was killed by police in New York City, suffocated by an officer that put him in a choke hold. Georgetown was played a nationally-televised game against Kansas, a top ten team. Every single member of the Hoyas roster wore t-shirts that read 'I CAN'T BREATHE.' They were the first college basketball team to make that kind of statement. It was national news.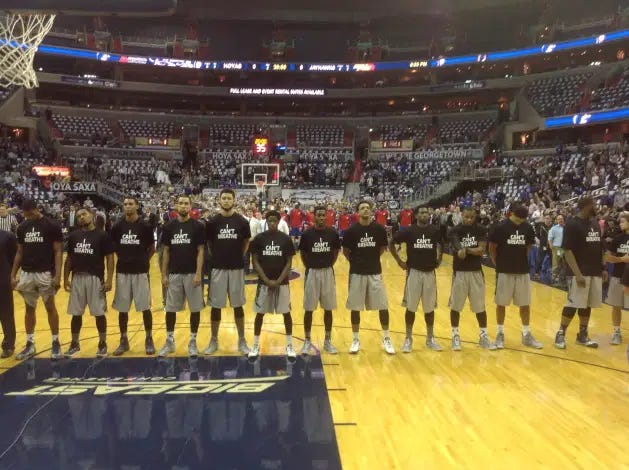 Big John had a habit of camping out in the back of the press conferences after games. On this night, his son was asked if his father's legacy impacted that decision.
And dad answered.
"This is a fucking school, man. It's our responsibility to deal with things like this."
In the past week, we've seen not only the NBA, but the NHL and MLB boycott games in response to the police shooting of Jacob Blake and the murder of two protestors in Kenosha. We learned that Big East teams, including those Georgetown Hoyas coached by Patrick Ewing, are going to be wearing jerseys with Black Lives Matter written on them this season thanks to the movement that started after George Floyd and Breonna Taylor were killed by police.
Black athletes today understand the power that they wield, and they are using that power to help influence the change they want, they demand.
John Thompson Jr. was doing the same three decades ago, in an era where it was not as universally accepted. We need people like him now more than ever.
He was a man ahead of his time.
Rest In Power to a legend.